---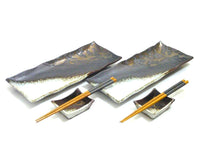 Creating a dramatic display, this alluring Rustic Splendor Sushi Set is modern, and very creative in use of gold, silver, platinum and gray tones to provide a wonderful table setting.
As a gift idea for birthdays, anniversaries or weddings, Rustic Splendor will please any person lucky enough to receive this special sushi plate set. The slightly scalloped rectangular plates offer a great backdrop for your sushi.
The small sauce dishes are square and try to capture the same grandeur of the sushi plates and are magnificent in their own right. A sushi plate set that is completed with a pair of golden chopsticks that are adorned with a matching Rustic finish at top. A great Christmas gift ideas for anyone.
Material: Porcelain
Dishwasher Safe
Packaging: Loose

Dimension
Sushi Plate 7-1/4(L) X 5(W) inches
Sauce Dish 3-1/2(L) 2-1/2(W) X 1(H)
Chopsticks 9(L)