---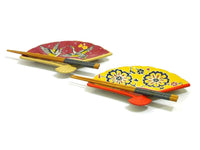 A pair of fan-shaped sushi dish plates make up a Golden Splendor Sushi Set that will delight everyone who sees this lovely sushi plate set.
Each complementing the other, while having their own special decorative twist, the pair of sushi plates are fun for anyone looking for a gift that is different yet useful. The first fan displays two cranes on a vivid red background trimmed with a deep yellow border to emphasize the beauty of the birds.
The second Japanese sushi plate is decorated with a pretty flowered pattern that is edged with a an orange-red border to make the posies brighten in the sunny yellow background. The delight sushi serving set is paired with two sets of golden chopsticks that complete the display beautifully.
Dimension
Sushi Plate 8 X 5.5 inches
Chopsticks 9 (L)
Material: Porcelain
Dishwasher Safe
Packaging: Gift Box
Made in Japan