---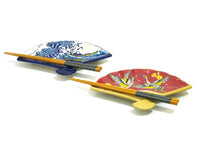 If you are looking for something different, you should look at the unique Fan-Tastic Sushi Plate Set for a gift that will be loved by all. These beautifully detailed fan-shaped sushi plates are distinctly different yet complementary as a sushi serving set.
Each fan is uniquely its own – the first in a blue and white pattern that is lovely to see with a sweeping display across its widespread fan and bordered with a deep blue to make it easy to carry when full of your favorite sushi treats.
The second fan is in red and yellow with two beautiful cranes in full flight – this lovely Japanese sushi plate is trimmed in deep yellow. The two equally beautiful sushi plate sets come with a pair of golden chopsticks to complete this grandiose sushi plate set.
Dimension
Sushi Plate 8 X 5.5 inches
Chopsticks 9 (L)
Material: Porcelain
Dishwasher Safe
Packaging: Gift Box
Made in Japan