---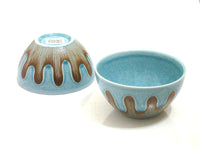 Everyone needs serving bowls when you are serving sushi. This delightful set of two Blue Horizon Sushi Bowl sets the pace for a wonderful meal using your best sushi serving set.
The large bowl that holds 17 fluid ounces will take command of the table with its distinctive pattern. The pale blue background like a large pool of aquamarine water has distinctive fingers that keep the focus on the amazing beauty of the bowl that can hold rice or serve soup with your sushi.
As a gift for any occasion, it is a beauty that can easily be given for a birthday, or any occasion and makes a stunning addition to sushi plate sets or your best Japanese sushi serving set.
Dimension
Bowl 5.25 (D) X 2.75 (H) inches - 17 fl. oz
Material: Porcelain
Dishwasher Safe
Packaging: Loose
Made in Japan