---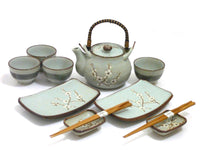 A stunning wedding gift idea is this Pale Green Plum Sushi and Tea Set that will make a great first impression when it is opened. This lovely sushi serving set will add a decorative touch to any home and be a wonderful sushi making set for anyone who receives it. A pair of oblong sushi plates with slightly raised edges and brown trim showcase the tiny white blossoms on climbing twigs across the plates.
Two small round soy sauce dishes provide a different look but share the beautiful plum blossom design in the bottom of the bowls and climbing up the insides with a matching brown rim along the edge. Dark brown chopsticks make a lovely contrast to the sushi plate set and match the trimming on the sushi dish set.
A beautiful teapot featuring the same delicate blossoms on the front of the rounded side and on the lid that has a round brown knob. A rounded brown rattan handle makes pouring easy from the curved spout. Four little round teacups in the same muted colors complete this decorative sushi serving set that is sure to please anyone who is lucky enough to receive it.
Whether you need great birthday gift ideas, Christmas gift ideas, or Mother's Day gift ideas, you cannot go wrong with this pretty Japanese sushi set for two. This sake and sushi set is one of the best you will find as a unique gift idea!

Material: Porcelain
Dishwasher Safe
Packaging: Gift Box
Made in Japan

Dimension
Sushi Plate  7-3/8 (L) X 4-3/4 (W) inches
Soy Sauce Dish  3-1/2 (L) X 2-1/2 (W)
Chopsticks  9 (L)
Teapot  6-1/2 (L) x 5 (W) x 6 (H)
Teacup  3-1/4 (D) x 2-1/4 (H)